Introducing the Ford Family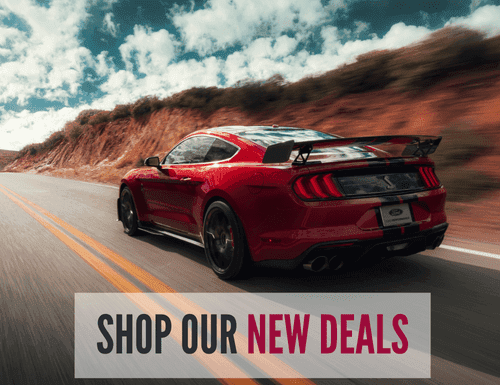 Five Star Specials
Five Star has the vehicle at the price that you are looking for. We will make it easy for you to find.
Value Your Trade
Trade-in and trade-up with one of your old trucks or vehicles and for a brand new vehicle.
We're Here For You
Five Star Ford Stone Mountain always puts customers first!
Don't take our word for it: Read our reviews and see what everyone is saying.
Great folks, very professional and knowledgeable. I got a competitive credit for my trade in and the buying process was fast and not pushy at all.
Great experience. We called on a Friday afternoon and the first person who answered was able to locate the car we saw online and referred us to Mark Ridolfi to help finalize the sale. We went to the dealership Friday night and took care of everything. Mark was easy to work with and made this a simple process. The truck wasn't quite ready Friday so Mark personally drove it to us when it was ready and answered all of my questions. I would definitely recommend working with Mark and Drew at Five Star Ford.
Great service and if you need a vehicle, definitely stop on by. Friendly, fast and knowledgeable. Offers great help with anything you need and the building is kept up with.
Upfront nunbers,no pressure,very easy,Z our sales guy was great,Justin in finance was very thorough in explaining the process. I would highly recommend them to anyone.
Mike B. made this one of the easiest buying processes. He asked for all the info he needed to have everything ready by the time I made it from Chattanooga. Paperwork was ready and vehicle was cleaned and ready to go. Highly recommend!
Great experience, great salesman, and great service!! I was accommodated with all my needs and affordability! I would highly recommend Five Star Ford Stone Mountain to anyone looking to buy a quality car
The sales representative, Mark Ridolfi, was very informative and put us at ease with the purchase experience. We were very pleased with everything from our first phone call with Gary, our dealings with Mark, and assistance with financing from Michael and Aaron.
Jacob is an excellent sales man who will assist you in getting the right car for you and your budget. The whole team was nice and had good energy.
The best, no complain I am so satisfy all the agent have a great customer device they get what you want. They go to the point
Mark is very professional and patient. The whole process was very smooth, I got my old car traded-in and tested drive of two cars. Ended up buying the new mustang GT 2022.
Overall, best customer service experience I have ever had at any business let alone a car dealership. The staff helped with everything I needed and went above and beyond. The salesman was knowledgeable and honest. Mark actually recommended the cheaper vehicle to me because it best suited what I was looking for when we initially spoke. The finance office actually beat the loan I walked in with by a lot too. On top of all that, everyone stayed late to finish the deal so that I wouldn't have to drive over an hour to come back the next day and sign paperwork. I couldn't ask for more from this team!
Got a used vehicle over the weekend. All negotiation was fine via phone and text prior to arrival and paperwork was done by the time I arrived. All staff was knowledgeable and courteous. 10/10 would recommend.
They always make the process so easy and smooth. I've bought multiple cars here and I will continue to do so, the entire staff is great!
Five Star Ford in Stone Mountain did an excellent job with helping me with my new ford bronco. Jacob Johnson and Drew Robertson went above and beyond answering all the questions I had. They also helped with some extra things that I had done for my bronco at the dealership. Thanks again
First Class Service! Found the 2022 F150 I was searching for on line. Called Five Star Ford Stone Mountain and talked to Michael Kaluta. He sent a video, photos, provided details of the many features. I purchased the truck and it was delivered to my driveway. I will call Michael again for my next truck.
Drew and team walked me through the purchase process for a new Bronco and made it seamless. The Team here was very professional and kept me up to date and informed from beginning to end.
5 Stars. Excellent experience. Was not expecting to purchase. Was simply looking. The deal was better than I was expecting. Did not take a lot of back and forth.
Everyone at this location was so nice. Their customer service was TOP TIER! I got some bad news because unfortunately my credit isn't the best. I left but got a call not even 5 minutes later with a deal and they worked it out. I left about an 2 hrs later with a car. No money down! I thank God for each everyone of them who played a part in the process. I will not go any where else ever again!
Great customer service and the whole pricing process was very smooth. Michael is awesome to deal with and his sales team made for a smooth and easy transaction.
Great customer service and the whole pricing process was very transparent. Michael is awesome to deal with and his sales team made for a smooth and easy transaction.
Great place to buy a car. The staff is very helpful and make the process easy and stress free. I highly recommend Five Star Ford Stone Mountain
Was looking to trade my 21 GMC Canyon AT4 for a 22 Ranger. I was dealing with another dealership and didn't like the way things were going. Michael and all the guys were very easy to work with and I couldn't be happier with my purchase.
Mike And Aaron really worked with me finding a 2019 Ford Flex. My experience after some hesitation with both gentleman was wonderful. Very patient with my decisions.
Michael at 5-Star Ford Stone Mountain was awesome! I contacted them to see the availability of a Must at Mach-E. He contacted me right away with one that he had in stock. He even sent me a personalized, live video to show me the car and some of the features. I say this because we're located in Tampa, FL. We traded in our SUV by sending them photos of our car. The whole team was great! We setup delivery of the vehicle upon return of our vacation.
It was great ask for Z he is amazing . Picked the car out Friday :: worked the deal and picked up Saturday . Very fast service .
Welcome to Five Star Ford Stone Mountain
Five Star Ford Stone Mountain is one of the newest Ford dealerships in the Atlanta area and a new addition to the Five Star Automotive family. We serve the greater Atlanta area, including the cities of Decatur and Stone Mountain. Our robust Ford inventory includes American favorites such as the Ford Mustang, F-150, Fusion, Edge, and Escape. We welcome you to use our website's many features to search for the perfect Ford vehicle, calculate a car payment, or learn more about the monthly specials that we are running.