There are plenty of pickups on the market in 2020, and it can be difficult to separate the newcomers from the true contenders. The Ford F-150 is America's all-time best-selling pickup truck, and you bet it's made it onto our list of best buys for 2020. This year, the F-150 features an advanced, high-strength, military-grade aluminum body, on a fully-boxed high-strength steel frame. With six engines to choose from, there's no question why we've given it the top spot. Read on for more information about the F-150, and the other trucks that have us most impressed in 2020. Whether you need a light-duty like the F-150, a heavy-duty truck like the Ford F-250, or a small city driver, we've made sure to get them all on our list.
1) 2020 Ford F-150
MSRP: $28,745
View Inventory

America's all-time best-selling pickup truck is the number one spot on our list. The 2020 Ford F-150 still beats the competition on what it always has— this truck is a towing behemoth. Capable of towing up to 8,000 pounds without putting too much money down, this is an exceptionally high bang for your buck. This powerhouse also features between 250-450 horsepower, a 10-speed automatic transmission, and an impressive fuel economy for such a capable truck. As mentioned, you have six powertrains to choose from on the F-150, with the big boys like the turbodiesel V6 available with 10-speed transmissions, ensuring an impeccably smooth power delivery. Choose between the Ford F-150 XL, XLT, Lariat, King Ranch, Platinum, and Limited, in addition to the Raptor trim, all of which have different levels of interior comfort and outdoor performance. This truck gets our number one spot on towing and toughness alone. Maxing out at 13,200 pounds, the Ford F-150 is a monster when it comes to towing specs, at a price point that's fantastic for an American-made vehicle. If you're looking for a full-size light-duty truck, look no further than this year's brand new F-150.
2) 2020 Ford Super Duty
MSRP: $33,706
View Inventory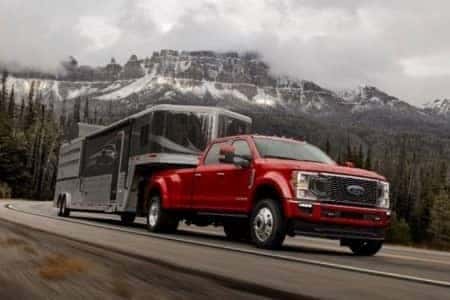 The Super Duty line has some fantastic offers from Ford. Starting with the Ford F-250, the upgrade into a heavy-duty full-size truck costs much less than most people think, with the base variant remaining competitive with other light-duty trucks on the market. Choosing the F-250 gets you a massive boost to towing capacity, as the 6.2L V8 variant of the F-250 maxing out at 20,000 pounds by standard trailering methods. If you've got something heavier, there's still room to grow with the F-350 and F-450 models being readily available at dealerships, offering near industrial levels of power. Both of these vehicles feature a 6.7L V8 that delivers 1,050 pound-feet of torque.
3) 2020 Ford Ranger
MSRP: $24,410
View Inventory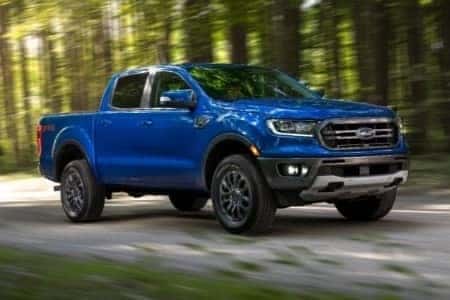 The Ford Ranger is our pick for those looking for a capable city driver. There's no question that the Ranger is the best option out there for a city truck. The Ranger is around $4,000 cheaper at the base level than the F-150, which makes it a phenomenal choice for someone who won't often push their pickup to the absolute limit. The Ranger might be the winner on this list when it comes to horsepower for dollar, offering 270 horsepower and 310 pound-feet of torque. The Ranger can absolutely be your furniture, lumber, or other light-duty material workhorses, saving you even more with its stellar fuel economy while you're at it. The Ranger is the only small pickup we've included on this list, and that's because there's no reason to look anywhere other than Ford for a truck like this
4) 2020 Ram 1500
MSRP: $32,145
View Inventory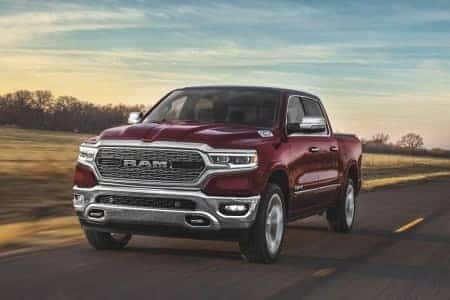 The Ram 1500 won the 2019 MotorTrend Truck of the Year award, and the 2020 model is only an improvement. With an updated EcoDiesel V6 available that puts out a phenomenal 22 mpg in the city and 32 on the highway, it's astounding that this car still has so much power available— offering 260 horsepower and 480 pound-feet of torque. This is a good full-size truck that handles well in most conditions. It has a lower towing capacity than the F-150, but it's a good option if you're looking for a different style.
5) 2020 Chevrolet Silverado
MSRP: $28,300
View Inventory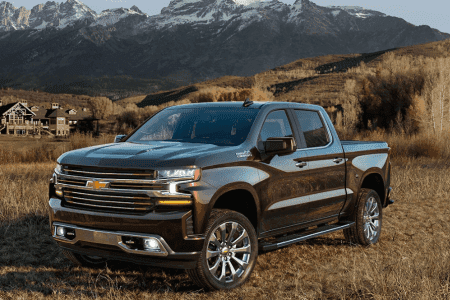 The Silverado has one of the best starting MSRPs on this list, and we're happy to say we're not exactly sure why. Nothing feels cheap about this truck, which has been one of America's top 5 best-selling pickups for a long time. This year's model is available with a new turbo diesel engine, which makes it easily one of the best performers in terms of fuel economy (you can get up to 33 miles per gallon on the highway in this truck!) in this segment, without skimping on towing capacity or torque. This is a full size truck that competes with the F-150. While we don't find it has quite the same level of overall capability, this is a fair option for drivers looking to maximize fuel economy..
Choose Five Star Ford Stone Mountain
If you're in the market for a new truck, then look no further than Five Star Ford Stone Mountain. We offer personal vehicle delivery at no charge to you, whenever you buy a vehicle with us (distance depends on location). You can also use our online services to calculate your monthly payment, value your trade, and request financing. That's right, you can complete the entire car-buying process without ever having to leave the house. Shop our inventory online before your perfect truck gets sold!